Arrival:
Bandaranaike International Airport (CMB)
Combine an epic Sri Lankan surfing experience with a serious surf coaching qualification.
This 10 week surf training programme and instructor course Sri Lanka is aimed at anyone who wants to become a surf instructor, experienced or not, whilst experiencing the beautiful island of Sri Lanka.
We will teach you the fundamentals of surfing, traveling from the East to West Coast of Sri Lanka, through the beautiful Hill Country, whilst getting you ready for your ISA Level 1 Surf Instructor Award and Surf Lifeguard Qualification, which combined together enables you to work as an instructor around the world.
The most challenging and rewarding physical and mental experience of my life. Despite being 31 years older than the average age of the group I always felt completely included and supported by coaches and fellow students alike. The ethos of success and knowing others believe in you is so motivating. I know that I have developed skills and a personal insight and inner strength that I will be able to carry forward in my own coaching to inspire others to experience the energy, joy and freedom that surfing can bring to life.
Everything that I experienced throughout my stay was professional and amazing beyond anything I have ever experienced before. There is a nice variety of boards from beginner foamboards to advanced shortboards and every surf instructor is packed with surf knowledge, compassion and enthusiasm. Whether you're a person who thrives on being out of your comfort zone, or you like to take things slow one step at a time, the incredible crew will work together and tailor something that makes YOU progress as much as possible, while still having tons of fun in the water.
I had an incredible time. From A to Z everything is super organized. The surf house in Sri Lanka has a great location, just across the street and you are at different surf spots. Also the rooms are nice and clean. The highlight of the house is definitely the roof terrace where you can watch the sunset with a cold coconut or a lions! No matter with which surf level, with them you are definitely in good hands. The whole group was well mixed with people from all over the world and different ages.
This was such an epic trip! All the staff were so kind. Couldn't imagine I would improve so much surfing wise and just as a person. They got me so much out of my comfort zone, but felt always safe with the great coaches around.
Related trips...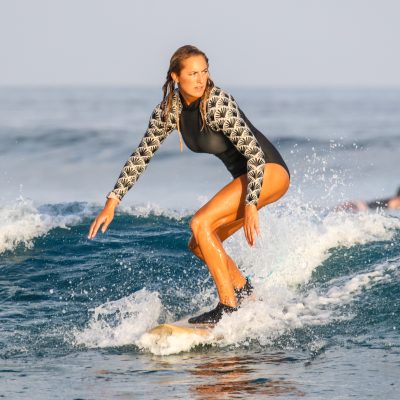 durations start from
14 days