India: A New Perspective
Goa was ruled by the Portuguese until 1961, when the Indian Government began military operations that resulted in the takeover of Goa. It is the richest state in India with a GDP per capita of two-and-a-half times that of the national average. This could be because Goa has a stunning coastline filled with beautiful beaches and places of worship, or due to the states rich reserves of natural resources, all of which bring vast numbers of tourists to the area. Much of the area is still home to breathtaking Portuguese architecture and, despite visiting during the off-season, the beautiful beaches I read about- Arambol in the north and Palolem in the south were even more stunning than I had imagined.
Olivia's Experience In India
My motivation in travelling to Goa, however, was more than simply the beauty and history of Goa itself. As someone with a long-standing passion for teaching children how to swim, I wanted to expand my teaching experience by teaching local children. Combining my previous experience with the opportunity in Goa has provided immense help for my future career as a teacher.
Travelling to Goa with Changing Worlds and undertaking this opportunity of a lifetime has enabled me to develop my skill set and gain new strengths through a hands on experience; providing local kindergarten students and children from poorer, rural areas teaching in English opened my eyes to how rewarding teaching can be.
Travelling to Goa, and participating in a variety of projects and activities, allowed me to learn my own strengths and build my confidence in myself. My experiences on the trip also helped shape my mindset into one that is more likely to look for the positives; hopefully this will continue to serve me well into the future.
Travelling is a passion of mine and I love embarking on new adventures- especially when they offer the chance to gain invaluable experience of working with children. Since living abroad, I want to try and experience as many different cultures as possible, expanding my knowledge of its history, religion and society. The Changing Worlds project in Goa allowed me to completely immerse myself in the rich and diverse culture India has to offer.
Since returning to university I have enrolled on a Teaching English to Speakers of Other Languages module and now I hope to use my degree to become a teacher- one day teaching children English abroad. India gave me a new perspective; having this experience has enabled me to understand more how children learn and interact in an educational environment and how they learn English as a second language. I hoped that the Changing Worlds teaching project would help me develop the ability to effectively lead and work in teams but I never expected it would also spark my journey to teaching.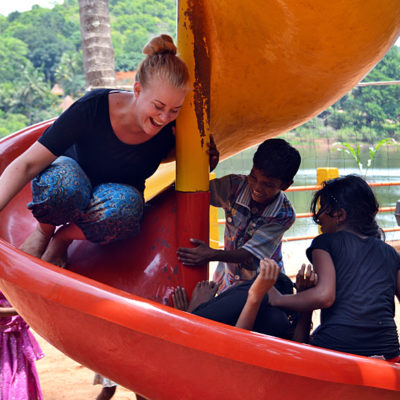 durations start from
7 days